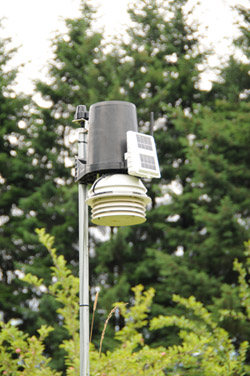 WEATHER STATION UPDATES
-Mar 2013- A new Solar Radiation sensor has been added to the station. Very useful in agriculture to calculate soil moisture evaporation. (Evapotransportation is a function of Solar, Wind, and Temp) Also useful in the generation and calculation of potential solar energy.
-Apr 2011- Again I've moved the temp/hum sensor to a new location for more accurate data. I would like to thank my neighbor for siting them on his property of 3 acres. The field is mostly grass and garden, a perfect environment for the sensor suite. The fan aspirated radiation shield is solar powered to operate through the daylight hours.
-Mar 2010- The All of the sensors have been re-sited on the property to give you the most accurate data possible. More information on my weather HOME page.
-Feb 2009- The old communications tower structure has moved and grown to 85 feet. The anemometer is now mounted above the tree line relaying accurate wind information. Also the webcam is now mounted at 95 feet with a clear 360 degree view. I plan to upgrade the image resolution of the webcam soon.
-WX Radio- This audio is streamed from RF receivers to my weather server using EdCast then to the Weather Underground WX radio network.
Eugene Current Conditions [Updated ~ every minute]

Updated: 3:35pm on 1/19/17

(location)

Currently: 51.1°

Hum:69%

Dew Point:41.3°

Wind Chill:50.1°

High: 53.8°
(1:49pm)
Low: 43.0°
(6:33am)

Wind Chill Low:36.3° (6:38am)

Comfort Level:
Cool
Wind:
4 mph from the SSW
Gust:
11 mph
Today's High Wind:
21 mph (12:39pm)
Dominant Wind Direction:
207°(0°N 90°E 180°S 270°W 360°N)
Humidity:
69%
Pressure:
29.60 in (Steady)
Pressure Rate:
-0.01 in/hr
Todays High:
29.69 in at 9:22am
Todays Low:
29.54 in at 12:00am
Dew Point:
41.3°
Wind Chill:
50.1°
Heat Index (feels like):
53.9°
Visibility:
10 miles
Cloud Height:
2451 feet

Rainfall Totals

Current Rain Rate:
0.00 in per hour
Hourly:
0.00 in
High Rain Rate:
0.01 in 5:11am
Today:
0.02 in
Last 24 Hours:
0.09 in
Monthly:
3.72 in
Monthly Average:
3.53 in 10 year sample
Yearly:
3.72 in
Yearly Average:
3.53 in 10 year sample
Records and Normals (more history data)

| | |
| --- | --- |
| Temperature | Forecast |
| High | 48° |
| Low | 35° |

Normal
Record
48°
66°
(2005)
34°
14°
(1916)

Almanac and Star Chart
Sunrise:
Moonrise:

Moon Phase:
51%

7:40am
12:09am
Sunset:
Moonset:
5:04pm
11:40am
***Star Chart***
History
Yesterdays Low Temp:
44.9° 8:15pm
Yesterdays High Temp:
56.7° 9:15am
Month Low Temp:
12.0° 1/5/17
Month High Temp:
56.7° 1/18/17
Years Low Temp:
12.0° 1/5/17
Years High Temp:
56.7° 1/18/17
Temp 24 Hours Ago:
51.9°
Now it is:
-0.8° warmer/cooler than 24 hr ago
Yesterdays High Wind:
34 mph (4:52am)
Month High Wind:
34 mph on 1/18/17

Year High Wind:

34 mph on 1/18/17

Solar Radiation (watts per square meter)

Currently:
86 W/sqm
24 Hours Ago:
46 W/sqm
Today's High:
664 W/sqm at 11:40am
Yesterday's High:
334 W/sqm at 1:08pm
Daily Average:
94 W/sqm
Monthly Average:
44 W/sqm 4 year sample
Yearly Average:
44 W/sqm 4 year sample
Monthly High:
664 W/sqm 1/19/17
Yearly High:
664 W/sqm 1/19/17
Evapotranspiration:
0.05 in
Today's High:
0.05 in at 3:00pm
24 Hours ago:
0.03 in
Daily Average:
0.01 in
Monthly Average:
0.01 in
Monthly High:
0.05 in 1/19/17
Yearly High:
0.05 in 1/19/17
History Graphs More History Graphs
Weather Advisories
Warning Date: 6:58 PM PST on January 18, 2017
Warning Description: Flood Warning
Full Advisory Text...
Forecast
| | | | | |
| --- | --- | --- | --- | --- |
| Thu | Fri | Sat | Sun | Mon |
| | | | | |
| Chance Rain | Rain | Rain | Rain | Chance Rain |
| 48° | 44° | 43° | 43° | 43° |
| 35° | 35° | 34° | 34° | 33° |
My Local Forecast (Generated by this weather station)
Increasing clouds and cooler. Precip possible within 6 hrs Windy with possible wind shift to the W NW or N
Web Cam (Tower mounted at 100 feet)
Image updated every 1 min (looking south, usually)
(may need to click twice to play)
Time lapse video archive
Warning Description: Flood Warning

Warning Date: 6:58 PM PST on January 18, 2017

WarningSum:


Warning Message:The Flood Warning continues for
  the Luckiamute river near Suver.
* From late tonight to Thursday afternoon or until the warning is 
  cancelled.
* At 6 PM Wednesday the stage was...23.0 feet / 5000 cfs.
* Flood stage is 27.0 feet and flood flow is 7000 cfs.
* Minor flooding is forecast.
* Forecast...this river will rise above flood stage between 1 am and 4 am
  Thursday and is expected to crest at 27.4 ft Thursday morning.
* Impact...above 27.0 ft, expect flooding of low lying and 
  agricultural lands in the vicinity of Sarah Helmick State Park, 
  Highway 99w, and Parker Road. Some secondary roads and rural access
  roads may be flooded at this point. Flooding along Buena Vista Rd 
  near the confluence with the Willamette is also likely, especiallly
  if the Willamette is running high.
Lat...Lon 4479 12327 4479 12321 4476 12316 4472 12316 4475 12323
WarningDesc:Small Craft for Hazardous Seas Advisory, Gale Warning, Hazardous Seas Warning

WarningDate:7:13 PM PST on January 18, 2017

WarningSum:...Hazardous Seas Warning Remains In Effect Until 10 Pm Pst This
Evening...

Warning Message:...Small Craft Advisory for hazardous seas in effect until 4 PM
PST Thursday afternoon... 
...Gale Warning remains in effect from 4 PM Thursday to 4 am PST
Friday... 
...Hazardous seas warning remains in effect from 4 am Friday to 4
am PST Sunday...
* winds...south winds increase late Thursday afternoon...reaching
  gale force 30 to 40 kt with gusts to 50 kt Thursday evening and
  overnight.
* Seas...very steep 15 to 18 foot seas will lower to steep 15 foot
  seas tonight and Thursday. Very steep wind driven seas will
  develop again Thursday night into Friday morning...followed by
  very steep and extremely high westerly swell dominated seas late
  Friday into Saturday.
* Areas affected and timing...very steep seas will affect most
  areas this evening. All areas will see steep seas tonight
  through Thursday. Gales are expected beyond 5 nm from shore late
  Thursday...except closer to shore near Cape Blanco. Hazardous
  extremely high seas will impact all areas Friday and Saturday.
* View the hazard area in detail at http://weather.Gov/Medford/hazard
Precautionary/preparedness actions...
A Gale Warning means winds of 34 to 47 knots along with very
steep and hazardous seas are imminent or occurring. Operating a
vessel in gale conditions requires experience and properly
equipped vessels. It is highly recommended that mariners without
the proper experience seek safe Harbor prior to the onset of gale
conditions.
A hazardous seas warning means very steep and hazardous sea
conditions are imminent or occurring. Recreational boaters should
remain in port...or take shelter until waves subside.  Commercial
vessels should prepare for rough seas and consider remaining in
port or taking shelter in port until hazardous seas subside.
A Small Craft Advisory for hazardous seas means that waves will
be steep enough to create a potential hazard to smaller vessels
and inexperienced mariners.
Http://www.Weather.Gov/Medford